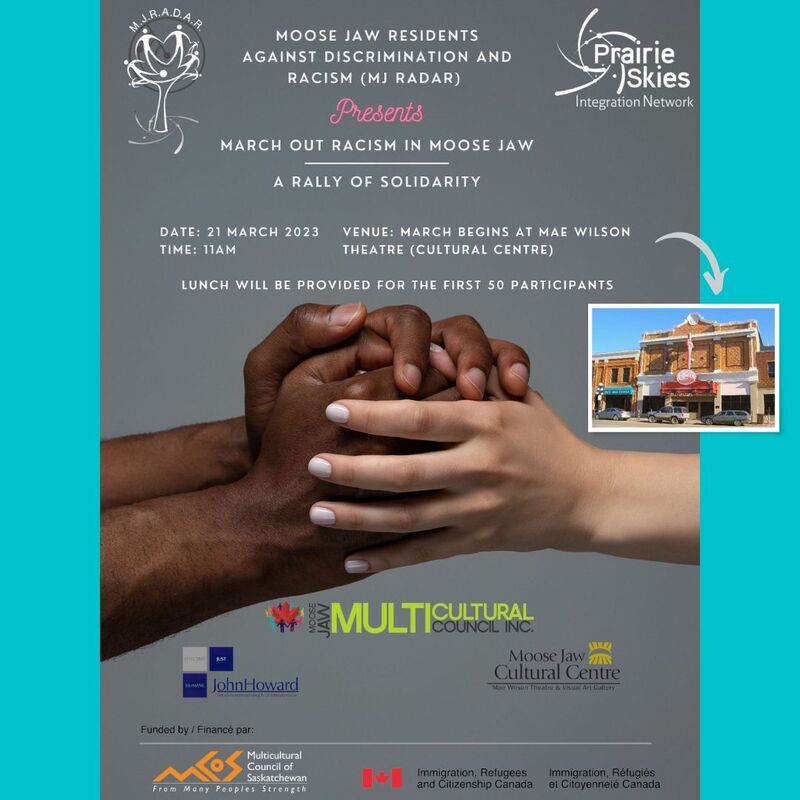 Mar 14, 2023
Everyone is invited to join The March Out Racism Rally that will be happening in downtown Moose Jaw on March 21st! The event is hosted by MJ RADAR (Moose Jaw Residents Against Discrimination and Racism), which is a working group of Prairie Skies Integration Network. The event will start in the lobby of the Cultural Centre (Mae Wilson Theatre) and the rally will involve a march along Main St. Sidewalks.
Event Timeline
11 am: Event starts. There will be 30 minutes to create posters, visit, and enjoy a bagged lunch (provided to the first 50 participants)
11:30 - 12:30: The group will leave the Cultural Centre going north, walking on the sidewalks.
12:30 - 1 pm: The group will return to the Cultural Centre for more visiting and a group photo before the event ends at 1 pm. Learn more on the official event page by clicking here.
---------
A big thank you to Immigration, Refugees and Citizenship Canada and Multicultural Council of Saskatchewan for sponsoring the event and to Moose Jaw Cultural Centre for generously providing the venue!
-------
About March 21st
March 21 is designated by the United Nations (UN) as the International Day for the Elimination of Racial Discrimination.
It's a day observed all around the world to focus attention on the problems of racism and the need to promote racial harmony. The UN made this designation in 1966 to mark a tragic event that took place on March 21, 1960 in Sharpeville, South Africa when 69 peaceful demonstrators were killed during a protest against apartheid.
The March 21 Campaign was initiated to heighten awareness of the harmful effects of racism on a national scale and to clearly demonstrate the commitment and leadership of the Government of Canada to foster respect, equality and diversity. Join us as we stand in solidarity with other communities worldwide to #MarchOutRacism