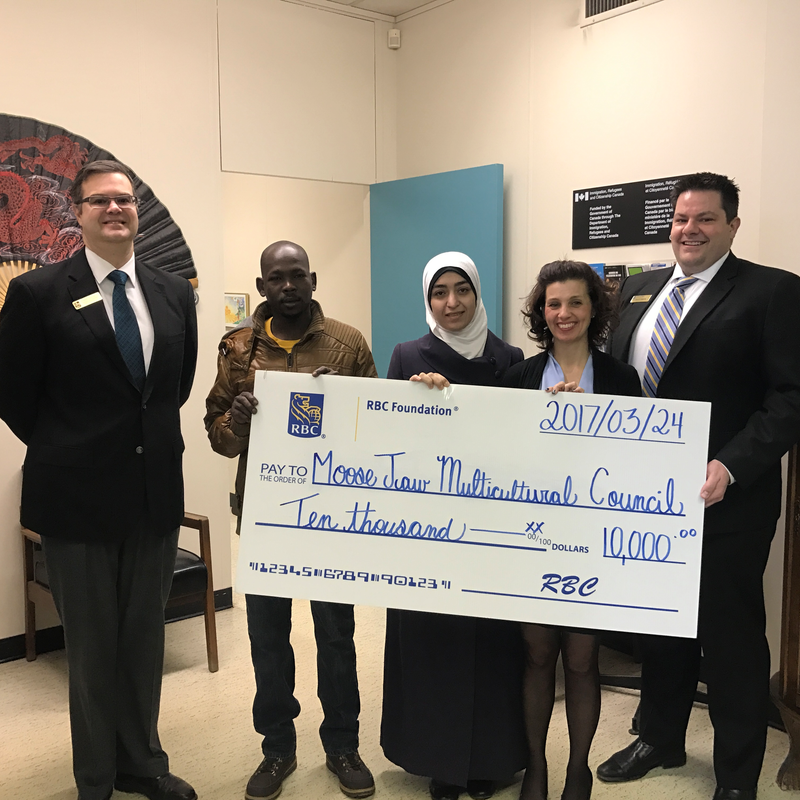 Mar 24, 2017
The Moose Jaw Multicultural Council (MJMC) had a lot to celebrate this morning after receiving an extremely generous $10,000 donation from the RBC Foundation. The donation will be allocated to MJMC's Career and Employment Preparation Program in order to enhance services already being provided to clients by offering funding for various skills training opportunities as it relates to each individual client's career and employment goals. MJMC envisions using the funds received from RBC Foundation to pay for skills training in areas such as: WHMIS, fork lift operator training, air brakes, safe food handling, leadership training, fall protection training, computer training, and more.
Newcomers face a number of difficult barriers in their resettlement efforts. With this funding, MJMC will be able to boost its Employment services and resources to even greater levels that will benefit all of our clientele. Overall, this will greatly help newcomers to learn and understand the importance of a safe work place as well as better their chance of gaining employment in various industries through filling advancement limiting gaps in their individual skill sets.
Here to present the cheque on behalf of RBC Foundation was Regional Vice President, Ed Kaulbach, and Town 'N' Country Mall Branch Manager, Scott Paquin. Accepting on behalf of MJMC were Mokhtar Haroun, Neamat Halool, and Employment Coordinator, Robyn Watson-Flegel.